July 7th, 2011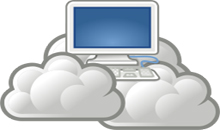 Life before cloud technology was complicated and expensive. In the past, companies had to buy computers for employees in order to have tools to do their job effectively. In addition, the amount and variety of hardware and software required to run traditional business applications can be overwhelming. Plus, the required expenses of software licenses for individual users. You can eliminate so many headaches by not managing all the hardware and software.
Enter cloud technology. It's not a fad. It's a shift from traditional software models to the Internet. And it's steadily gained momentum of the last 10 years.
Here's how it works…
A cloud user uses a laptop or desktop computer, tablet or smartphone with a web browser to access a cloud system via the Web. They can achieve routine tasks, send and receive data and only require a single computing device. For example, you can manage documents, presentations, music, and videos. It's possible because a network of computers via a digital network makes up the "cloud" of Web servers to handle multiple applications. A great solution for those companies that don't want to purchase hardware, just buy the computing time and storage that they actually use. The demands of the user's side greatly decrease and instead the only thing the user needs to be able to run is the cloud computing system's interface software, which can be as simple as a web browser. The cloud's network takes care of the rest. Pretty cool, huh?
If you have an e-mail account with a web-based service like Hotmail, Yahoo! Mail or Gmail, then you've had some experience with cloud computing. Instead of running an e-mail program on your computer, you log in to a Web e-mail account remotely. The software and storage for your account doesn't exist on your computer – it's on the service's computer cloud. The technology combines the Internet, web browsers and rich applications in one.
There is a significant workload shift, and a welcomed one, for many key service provider industries that need all their people always on-the-go. Employees need to access the firm from anywhere they are and remote hosting services help that. According to Cloud Times, by 2020, Forrester Research projects that cloud computing business will be worth $241 billion dollars! Big names like Microsoft, Apple, Google, AT&T, and Verizon are all investing loads of money to capture the market.
If you have enough processing power to connect to the cloud system, here are the benefits…
Access applications and data anywhere at anytime by the Internet

No need to buy the fastest computer with the most memory, the cloud stores all your information on a remote computer

No hardware or software to install! 100% cloud computing infrastructures

Empowered users for fast, point-and-click customization, like photo-sharing on Flickr

Save money, streamlined hardware means fewer problems with network and operating systems
OK, there are a few risks…
Information security from illegal acts like misuse of data access

Privacy, especially with wireless cloud computing

Digital divide widens between modern wealthy and poor nations

Changing cloud service providers may slow your data migration
Sure new technology comes with new worries but cloud technology companies are meeting those immediate concerns with great confidence. However, the latest innovations in cloud computing are making business applications even more mobile and collaborative. As consumers, you want to information pushed in real time and cloud technology is leading the way to mainstream use. At Your Electronic Warehouse, we can look forward to an exciting future of community product development.